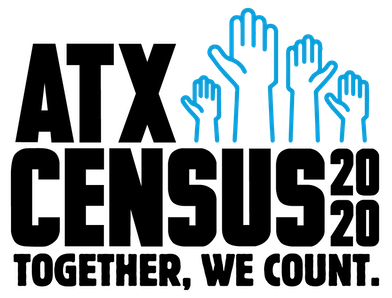 Thank you
The 2020 Census has finished collecting responses.
What is the Census?
Every 10 years, every person living in the United States - regardless of origin or status - is required to fill out the Census. This is a requirement of the United States Constitution in order to provide an accurate count of all people in the country. Federal funding for our local schools, transportation dollars for roads and buses, and healthcare services are all funded based on the Census. The political lines that are drawn for Congress, State House seats, and even school board members, are based on Census data.
If Austin and Travis County residents are undercounted in 2020, every Central Texan is negatively impacted.
The next Census is in Spring 2020. This is our chance to come together and make sure every resident is counted, so every federal dollar we deserve is accounted for.
Why the Census matters
When is the Census?
Don't Delay! Be sure to fill out your Census form today.
Households Received Information on How To Respond
Households received Census Bureau information on how to respond to the 2020 Census online, by phone, or by mail.
MARCH 12-20
Reminder Letters
Reminder letters have been mailed.
MARCH 16-24
Reminder Postcard
Reminder postcards have been mailed.
MARCH 26 - APRIL 3
Census Day!
This is Census Day, a key reference date for the 2020 Census—not a deadline. By this date, all households will have received an invitation to participate in the 2020 Census.
APRIL 1
Make Sure Everyone is Counted
Census counts people experiencing homelessness, colleges, senior centers, prions, and other facilities that house large groups of people.
JUNE
Take the Census
Online - http://My2020Census.gov, by phone – 2-1-1, or by mail
TODAY THROUGH SEPTEMBER 30
Historically Undercounted Communities in Austin and Travis County
Texas is at risk of an even larger undercount in 2020. Today, 25% of Texans, or over 6 million people, live in hard-to-count neighborhoods, where past self-response rates have been relatively low. Today in Travis County, 32% (over 370,000 people) of the population live in hard-to-count neighborhoods. An undercount means Texas is not getting its fair share of funding and representation since not everyone living in our state was counted. View the map below to see if your neighborhood is at risk of being undercounted.
Stand up and be counted in the 2020 Census
Every Travis County resident holds the power to shape the future of our neighborhoods, schools, and local government. It will take every community - no matter how small or large - to help get everyone counted.